Yay! I'm really excited about new music, so this entry is going to be delving into bands that I've become recently enamored with, I hope you take a listen and love them as much as I do!
First up,
Owl City
http://www.myspace.com/owlcity
This music is addicting! Their Myspace claims that their genre is Electronica/Pop, but don't let that scare you away, it's pretty music with amazing vocals that aren't completely synthed out. My favorite song is Saltwater Room, there is a girl singing as well and it's so beautiful. All of his music has such a happy beat. Take one listen, and you'll be addicted too. My whole town has become enamored with Owl City!
NeverShoutNever!
http://www.myspace.com/nevershoutnever
Pretty, pretty, pretty. This young prodigy is an amazing one-man band. If you've heard The Rocket Summer, he's got the same one-man vibe. But NeverShoutNever! is acoustic yet very catchy. His voice is so good, and his songs are about breakups and love.
"But the summer is a bummer
If you can't leave
This pathetic excuse for a town
That holds all your memories
A lifetime of crushes and your broken dreams
To be anywhere but here
But baby anywhere is away from me" - BigCityDreams
Take a listen, it's cute music if you're loving life or just need a pick-me-up.Oh, and did I mention he's good looking.. definately :)
Kings of Leon
www.myspace.com/kingsofleon
When I heard that Kings of Leon recently became a huge hit, I did a double take, because Kings of Leon has been around since 2003. My favorite abum of theirs is still the 2005 release Aha Shake Heartbreak. Caleb's voice is so unique sounding that you have to give this band a listen. My favorite song has always been Four Kicks, but that sadly isn't on their Myspace. I urge you to listen to it and try and guess exactly what he's saying, then look up the lyrics to see how wrong you were. That's why it's my favorite song. Also Molly's Chambers, but I think thats just because my name is Mollie.
Amanda Palmer
www.myspace.com/whokilledamandapalmer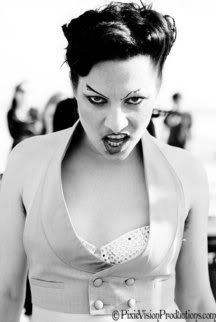 If you haven't heard the Dresden Dolls, you're missing out. Their leading lady Amanda Palmer has now gone solo, and her music is just as amazing. Just by looking at this woman you can tell what her music will sound like, so why wouldn't you want to listen? She's amazing.
Jack's Mannequin
http://www.myspace.com/jacksmannequin
This "side project piano-rock band" just keeps getting more amazing. I guarentee every song will be stuck in your head. This is a side project of Andrew McMahon, the lead singer of Something Corporate. I have loved this band since the beginning and with the new album I definately still do. His voice is aaammmaazzziinnggg! Listen.. now! :)
One Hot Minute
This band of cuties is so awesome and catchy. I always find myself singing Miracle in my head. They are pop rock and if you like bands like All Time Low you'll love these guys. I promise!!