Yesterday we went to the mall in search of a good foundation and walked out of there with almost $400.00 in M.A.C. products. But I did learn how to do my eyeshadow, and now I'm not frighteningly yellow anymore.
Though, I did walk around the mall looking like a drag queen as a result of allowing the M.A.C. lady to do my makeup.
When we got home I showed Tyler my M.A.C. loot, and he fell in love with how soft the foundation brush is.
But I'm really proud of myself because I woke up this morning and did my makeup and I didn't look too appalling.
Then today we went down to my college on a test run because I'm going to take the trolley to and from school. On the way down to SDSU I realized that I don't have a bookbag or anything. So mom said I could look for a purse to tote my books and laptop in. Now I'm in search of the perfect bag. So far, all the bags I've been craving are way out of my price range. (which I estimate is around $200.00)
I do like the ones at Urban Outfitters, but that store is not known for well-made items and I'm afraid their purses might not be an exception to the rule. Then there's this Ed Hardy one which I adore, but I don't think I'll get as much use out of it as i would a normal black leather bag. I need one to accomidate a 9" by 13.5" laptop, a few schoolbooks and notebooks. Any suggestions? I swear I looked through every bag on shopstyle.com.
Here are the two I like but don't LOVE.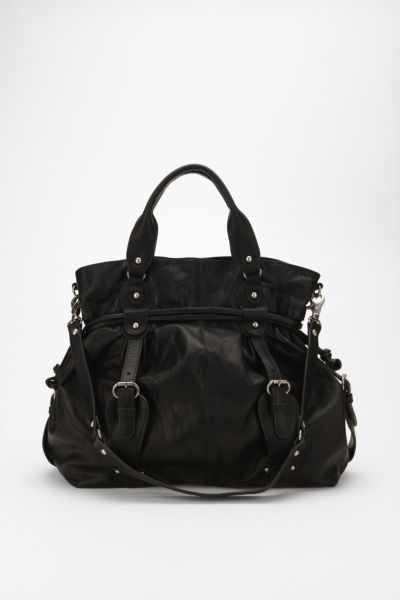 Help!
<3